typical Sicilian products since 73 years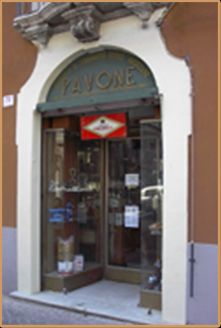 Situated in the historical centre of Catania, few steps away from the suggestive Piazza Duomo, our firm has been carrying on its retail/wholesale usiness since last year.

Founded in 1939 Pavone s.r.l. represents a typical example of family-run business, established in a difficult historical period, it has been able to win over the years the clients' affection and confidence thanks to the passion, seriousness and attention for the quality and care in the selection of its articles.

Among our specialities: confectionery (on-table or special event products), national and foreign wines and alcoholic drinks, chocolate, pralines and bons-bons. Special care is attached to the selection of sugar-coated almonds, for whose preparation Avola (SR) almonds are used, Bronte (CT) pistachio and extra-fine chocolate. Furthermore we deal with groceries and spices from the Far East. Finally, linked on to tradition, are the fancy sweet-boxes and gift articles.
How to reach us
Pavone s.r.l. is situated in the heart of historical
centre of Catania, nearly 200 metres from Duomo place and Etnea street.
We are at 16, "via della Lettera" (continue along
Crociferi street) a side street of Vittorio Emanuele
street.
You can also reach us by means of bus: take a number 534, 535, 536, 628n, 628r, 632, 650, 820, 830, 2-5 bus line.
find us on google maps follow the link
SPEZIE
SAPORI
VINI
DOLCIUMI
ARTE
LIQUORI
CAFFE'
COLONIALI